The Golden Mile, Marbella
Most people familiar with the Costa del Sol have heard of the Golden Mile, a stretch of land between Marbella center and Puerto Banus. Today the Golden Mile is home to luxurious mansions, some of them belonging to the Jordanian and Saudi Arabian Royal family and luxurious apartment complexes such as Puente Romano, La Trinidad and La Alhambra del Mar. Why has the Golden Mile become so popular with the rich and famous?
One of the founding fathers of the current Marbella and the Costa del Sol as we know it, is Prince Alfonso of Hohenlohe. He converted his family estate bought by his father Prince Maximilian Egon in 1947 into the Marbella Club Hotel in 1954. 20 years later, a little further away (about one mile), he launched the Puente Romano complex. Some of the worlds famous and rich bought plots of land in and around the area of the Marbella Club Hotel and Puente Romano. This gave way to the name Golden Mile, today the Golden Mile has expanded and is about 5 kilometers long and reaches all the way till the foothills of the La Conch mountain including Nagueles and Sierra Blanca.
In the 1950's and till the 1970's the Golden Mile was frequented by the rich and famous such as Ava Gardner, Audrey Hepburn, Sean Connery and Brigitte Bardot, to name a few. Most of them attracted by the the beautiful weather, beaches, great food but also the events taking place on the Golden Mile and the parties thrown by the Prince in the Club Marbella Hotel. Especially the Puente Romano Resort and its tennis courts are the home of many shows by for example Montserrat Caballé, José Carreras, BB King, Van Morrison and Simple Red.
Just passing by, but still want to know what all the fuss is about? You can enjoy the Golden Mile by walking on its promenade from Marbella center all the way to Puerto Banus and take a boat taxi back. During the walk you will be able to enjoy views towards the mountains La Concha behind Marbella and Bermeja behind Estepona and of course the beautiful beaches and Mediterranean Sea, on a clear day all the way to Gibraltar and Africa. Feeling hungry or thirsty just pause in one of the many chiringuito's open all year round to just sit, relax and enjoy the views. In the summer (and for some even the winter months) the beaches offer tranquil places for a swim.
All properties for sale on the Golden Mile.
Related Properties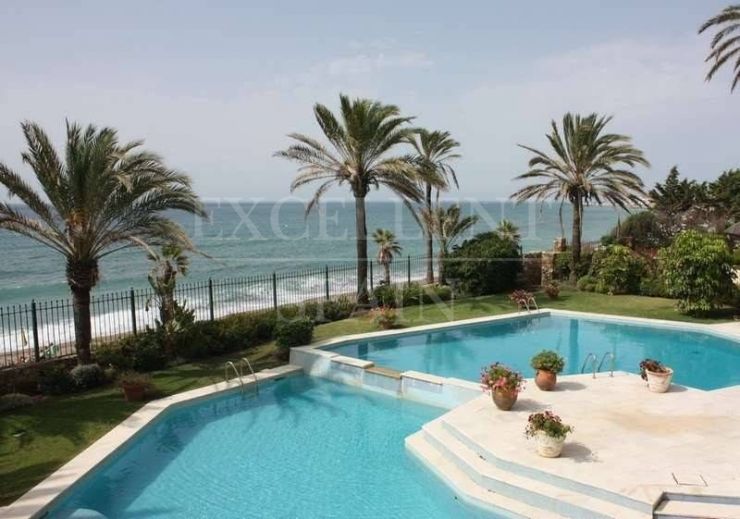 Beds14
baths14
Built2.200
Palatial beachfront property located in a unique elevated position on the Golden Mile, between Marbella center and Puerto Banus enjoying uninterrupted views over the Mediterranean Sea, Puerto Banus and even ...
Read +